Optima Impresses with Accuracy
With a 2,000-acre workload of maize drilling and harvesting, Eastern Agricultural Contractors run by Tom Coxall of Tewes Farm, Little Sampford, Essex, is one focussed on precision and efficiency.
And being in pursuit of high accuracy, Tom Coxall chose an Optima 8-row maize drill with HD units, e-drive and GEOCONTROL for his business.
"With GEOCONTROL and individual electric drive on each seeding unit, there are no overlaps on headlands, or with odd-shaped fields," he says. "Such precision eliminates crop bunching on headlands and now makes harvesting so much easier."
"We're currently using a standard GPS signal but plan to increase our precision even further by upgrading to an RTK signal for Spring 2013."
About to start his second maize drilling season with the Optima, Mr Coxall says the trailed 8-row precision drill also brought a change in row spacings, from 50cm to 75cm rows. And this too, has also brought impressive results for customers.
"We've noticed far better plant quality at the wider row spacings, because they're not competing with each other and this also has contributed to a yield increase," he says.
"Typically, yields are 10-15% higher, but the maize crop also produces a thicker, stronger stalk, which is less susceptible to bending when being cut. As a result, we get a much cleaner cut."
Used on a Fendt 724 with Power Beyond, he says the drill's power requirement is minimal and average output is 120 acres/day, though peak outputs of 200 acres/day have been reported.
"Drilling speed is easily 12kph," he says. "The Fendt will do three days on a tank of fuel and with auto-steering and GPS guidance, maize drilling is a stress-free operation."
Mr Coxall says the ability to apply more downward pressure with the HD seeding units allows him to drill into tougher seedbeds without problem.
"There is no doubt that this precision drill is the best on the market, and it is hugely impressive when it comes to accuracy, output and versatility," he says. "With plans to keep growing our maize business for dairy and biogas plants, I'd like a wider Optima with more rows and also to have on-the-move fertiliser rate adjustment to match that of seed adjustment."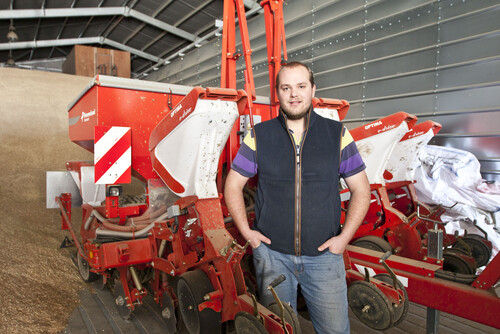 Tom Coxall says the speed and precision achieved by his Optima maize drill equipped with GEOCONTROL is hugely impressive.